At a Glance
Hub

Choose an outlet where with a good Wi-Fi signal, push the AC plug into the outlet and press any button to power it on.

Water Sensor

APP

Scan the QR code or find "Smart Life" / "Tuya Smart" from Google Play/APP Store to get the free application for Android or iOS. Upon installation of APP on your phone, the app will guide you through registering, connecting the hub to the internet.

Network Configuration & Match

Add your hub
1. Connect your smartphone to the WiFi router,open GPS of your smartphone (Only 2.4GHzWi-Fi network is supported).
2. Plug hub close to your WiFi router, put watersensor beside hub.
3.Login APP, tap "Add Device"or"+".

4. Select"Sensors"tap "Alarm(Wi-Fi)'

5. Input your WiFi information, tap "Next"

6. On your hub, press and hold the configuration button until the blue
ight flashes quickly, then it is ready to be connected.

Tap"Confirm the indicator is blinking"

Tap"Blink Quickly"

Wait the configuration finishes, tap"Done"

Note
1. If the hub blink slowly, please press andhold the WiFi configuration button again,make sure it is blink quickly.
2. If can not make the light blink quickly, please tap"Blink Slowly", then follow the
guide of APP.

Water sensor pairing
To test the water sensor, placing the probe into water. If the red light flashes, it indicates that the sensor is functioning properly. In the event that there is no reaction, please open the battery cover and verify that the battery is correctly installed.
1. Tap the hub icon in app
2.Tap "Accessories"

3. Add Water sensor
Tap"+", then put the probes of water sensor in water.

4. Select correct device type for water sensor
In the Accessories page, tap the water sensor which you just add, choose"Water Leak", then tap"Confirm".
Light Ring
| | |
| --- | --- |
|  What you see | What it means |
| Blinking cyan | Somebody visit (Doorbell) |
| Solid green | Armed |
| Solid cyan | Home armed |
| Nothing | Disarmed |
| Blinking red | Alarming |
| Blinking yellow | Entry delay @ quickly, exit delay @ slowly |
| Blinking blue | Wi-Fi connection configuration |
| Blinking purple | Pairing/sniffer mode |

Operation

Adjust Volume
In APP tap Settings > Volume level to select the level you want
Change Tune
In APP tap Settings> Alarm Chimes to select the tune you want
Alarm Duration
In APP tap Settings > Alarm Duration to select the voice alarm time you want
Tips: Change one of sensors'tune, you justcan change the last matched one. You'd betterto select your favorate tune before match next one. Or you delete the sensor and match again.
Arm/Disarm
You can arm and disarm your home using theremote tag or APP.
Attention: Only in arm mode, it will alarm when it is detected the water.
Or you can setup "Zone mode" to "24 hours"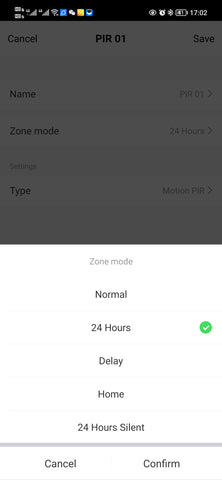 Power Down
To save power and turn the hub off, press and hold the Power Down Button until the light ring change to white and you hear four ticks from strong to weak.
Press any button to turn the hub on.

Reset
This process resets your hub to factory settings and removes all pairings.
Tap Settings > Factory reset in APP, or press and hold Reset Button until you hear two beeps and light ring change to purple, then the hub restarts.
Specifications

Hub
Power Supply: 110/220VAC
Backup Battery: 3.7V, 300mAh Lithium Battery
Consumption:<100mA@normal
Radio Frequency:433Mhz
Wi-Fi:IEEE802.11b/g/n
Volume Levels: 5(includes mute)
Sound Level(typical): 85dB
Expandable: up to 100 doorbell buttons / sensors and 10 remote tags
Operation Temperature:-10~55℃

FAQ:
- Q: Why is the light of the water sensor not flashing when the probes of the water sensor are placed in water?
- A: 1, Please kindly open the battery cover of the water sensor and ensure that the battery is properly installed. 
2, Test with a new battery.
-Q: How to make sure app get notification?
-A: 1, Smartphone need connect wifi or with network of sim card.
      2, Open permission for the app in smartphone, keep app work in background of smartphone.
      3, Some smartphones can setup special notification music for different app, please try it
      4, Water Sensor under the range of wifi hub.
-Q: Why can not connect wifi?
- A: If the wifi hub connected wifi, and need change to another wifi, please delete the hub from app list first.
-Q: How many smartphones can get notification same time? 
- A: The wifi hub can share to 20 app users, so 20 smartphones can get notification same time, but 1 app account only can login 1 smartphone, so different smartphone need register different app account.
-Q: Power failure notification?
- A:Yes, if the power supply of wifi hub failure, will get app notification.